Broadband Connectivity. Which is the best solution for you?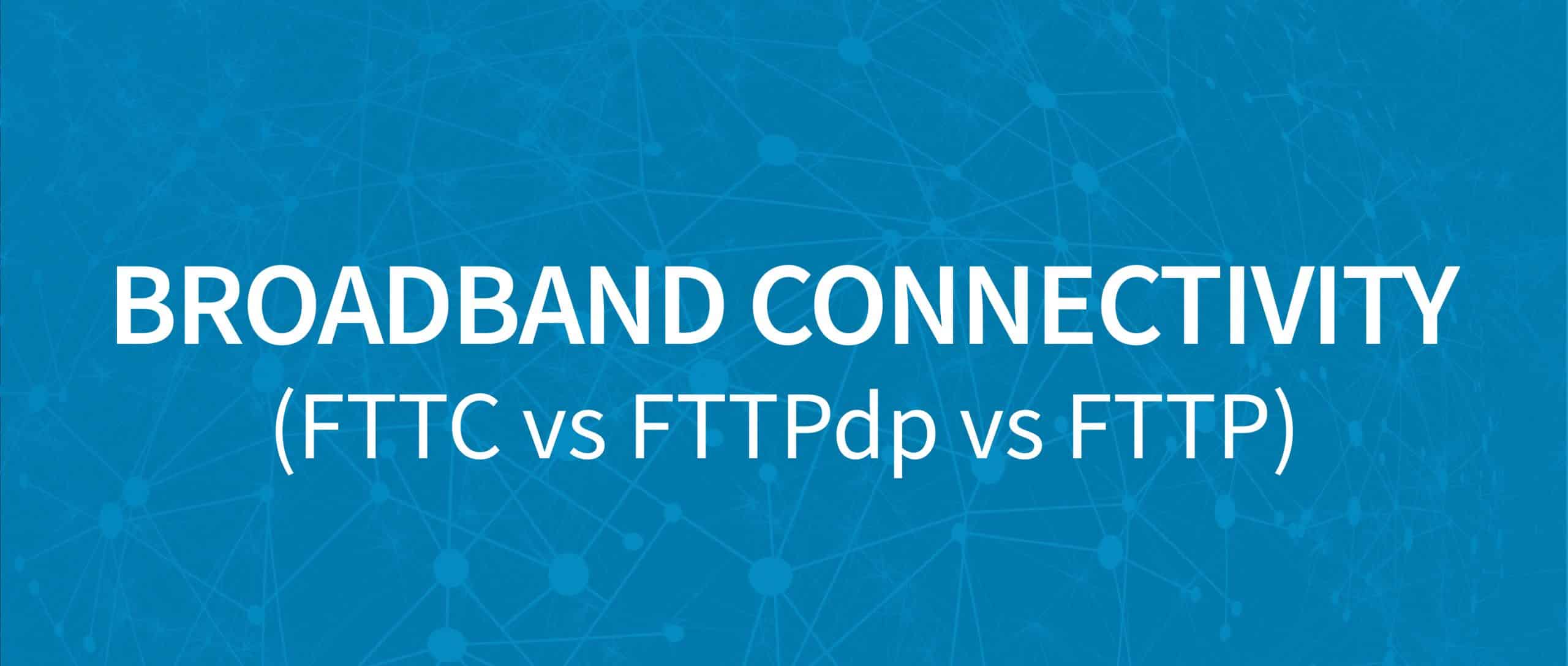 FTTC vs FTTPdp vs FTTP. 
FTTC stands for Fibre to the cabinet, this type of broadband connectivity is the most common in UK homes. FTTC cabling is shared by many users among a certain area as it is connected to a street cabinet, used to distribute internet connectivity via fibre optic and copper wiring. 
FTTdp stands for Fibre To The distribution point. It is also known as G.Fast this is a faster variation of FTTC  
On the other hand, Fibre to the premises (FTTP or FTTH) is used for residential applications. FTTP consists in a fibre connection that goes directly to a property making it faster. This connectivity is considered the most reliable broadband technology. 
How do these types of connectivity work? 
FTTC, a fibre optic connection between your local telephone exchange connected to the cabinet (green cabinets installed on street corners), and from this distribution point copper phone wiring is used to transfer data, just like traditional ADSL broadband. 
With FTTdp the fibre runs to the street cabinet and is split into multiple fibre optic cables and carries on to a distribution point. This is situated much closer to the premises. The final connection is still made over copper cable but it is typically much shorter. This enables much higher internet speeds. 
Advantages: 
Affordability: It is Cost-effective as it uses existing phone wiring to provide internet connectivity. 
Availability: FTTC is the most common internet connection for both commercial and domestic use. FTTdp is becoming available although Openreach has paused new installations in favor of FTTP 
Disadvantages: 
Lower Speed connectivity: Depending on the number of users sharing the connection, this may vary throughout the day. In addition, the further the property is from the cabinet the lower the broadband connectivity will be. 
Maximum theoretical throughput is 80Mbits per second download and 20 uploads. Although in reality, the maximum you will achieve is 76 down 19 up. Most installations are however slower again.  
FTTdp G.fast an even faster copper-based broadband. This delivers 330 Mbit/s download and 50 Mbit/s  
It is quite affordable too and it is used to adjust speedhigher frequencies using special equipment fitted to the cabinet. You can increase the speed up to four times compared to the traditional Fibre to the cabinet connection. 
On the other hand, FTTP broadband (fibre to the premises), also known as FTTH (fibre to the home) delivers data just with fibre optic cables unlike FTTC which still uses copper wiring. Hence, data speed is higher and distance from properties are longer. FTTP can deliver ultrafast speeds reaching up to 900Mb. 
Both fibre connections are offered for domestic and commercial use but the cost may vary from one provider to another. FTTC used slower copper cables to distribute the connectivity whereas FTTP uses fibre cables which makes it faster and a bit more expensive.  
FTTP is generally offered in multiple speed tiers from 150 right up to 900 Mbits 
Which broadband connectivity is the right for you? Well, it depends on how much data you are consuming and what is available. As of August 2022, FTTP is available in approximately 20% of UK addresses.. Let´s say, FFTC is commonly used in small residences whereas FTTP is more likely to be used in small to medium-sized businesses. 
Not sure what type of broadband connectivity you need? Don´t worry our Twisted Pair Technologies team will help you out with everything.