Network Cabling Solutions | Rebuilding a communications room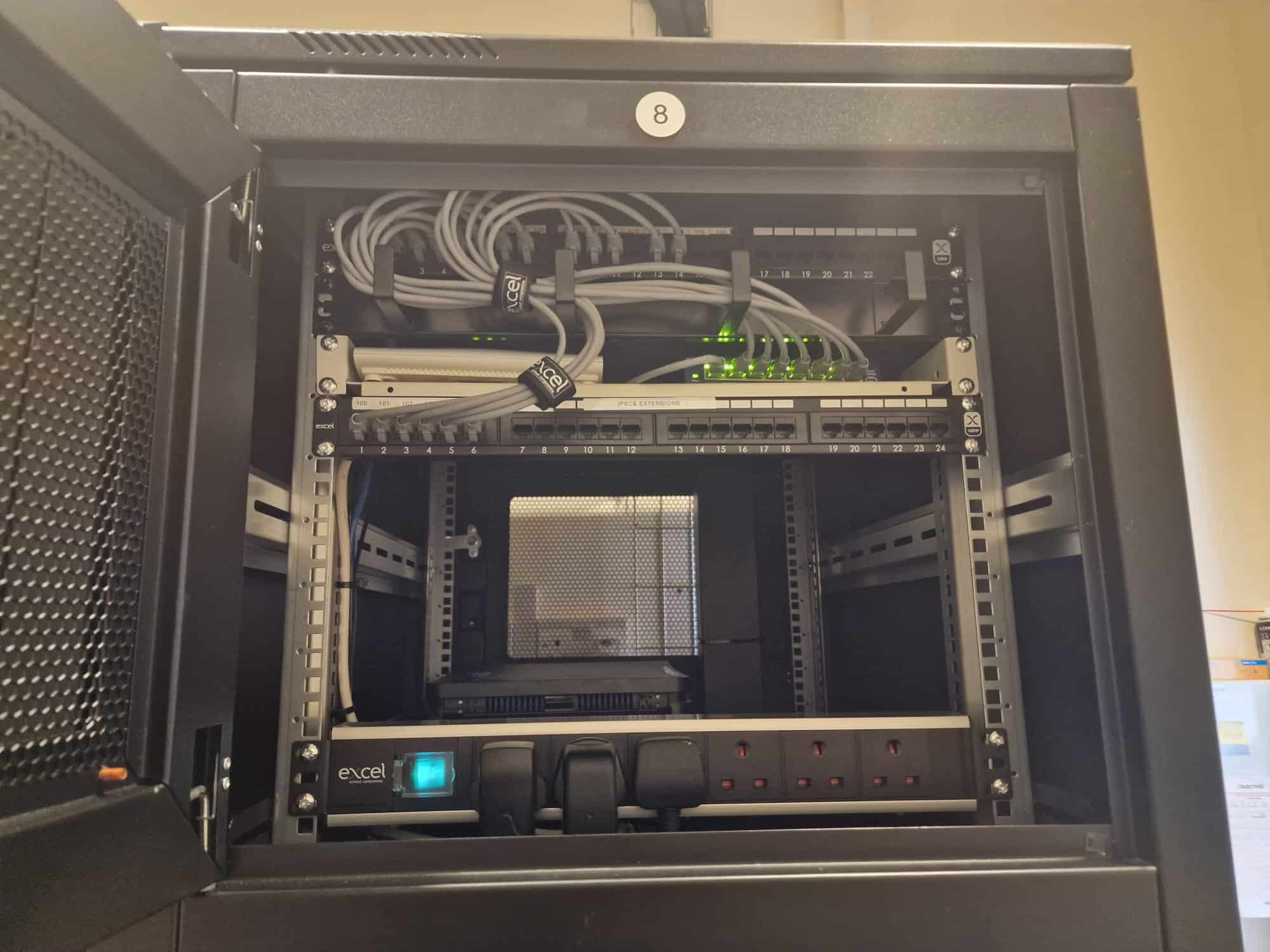 Project Overview
Location:
Court Rd Bridgend
As network cabling solutions experts, we have recently finished a communications room rebuild, which was carried out over an entire weekend to guarantee uninterrupted service and zero downtime for our customers. This project consisted of replacing the building's single network cabinet with two Prism 4 bay Co-Location cabinets, with individual secure compartments for each tenant.
The Challenge and Solution
The situation involved a large building accommodating multiple tenants. The network cabling serving all the tenants was centralized into a single cabinet, creating a risk where individuals could tamper with someone else's network, causing concern.  
To address this issue, we opted to dismantle the cabinet and replace it with Prism Co-Location cabinets. As a result, each tenant now has their own cabinet equipped with a secure code lock. This ensures that their network equipment and cables are safeguarded against unauthorized interference or tampering by others. 
Additionally we relocated the main BT incoming distribution point and moved the sockets to allow better access for servicing.
A well-designed network cabling is a game-changer for any organization, offering numerous benefits that enhance efficiency and security, some of these benefits include: 
Network security: In this case, each business has now their own cabinet under pin code lock and key, ensuring that only authorized people have access.

 

Equipment protection: Safeguarding network equipment from dust, debris, and accidental damage. A sturdy network cabinet provides a controlled environment that shields your routers, switches, servers, and other devices from external elements.

 

Space optimization: Network cabinets are available in different sizes allowing you to maximize your floor or wall space.

 

Cable management: No more tangled and messy cables. Network cabinets help you keep your cables neatly organized.

 

Improved ventilation: Cabinets are designed with fans or vents to have proper airflow, keeping the devices running smoothly.
Key Accomplishments
Infrastructure upgrade
Network security
Presentation of network equipment and cabling
Uninterrupted service and zero network downtime
Services Provided
What they said...
I have worked with Twisted Pair Technologies Ltd for many years on a number of small to large scale IT projects.

Whether it's installing new copper and Fibre passive/active networks, updating existing IT infrastructure, Tele comms, Broadband/Leased Lines, CCTV, Secure Entry Control Systems etc, Twisted Pair's extensive knowledge, expertise and quality are second to none.

Their dedication to getting the job done on time and to the highest possible standards makes them my first choice, every time.
Daniel Gribble Technical Infrastructure Manager