Short Range PtP 60GHz Wireless Bridge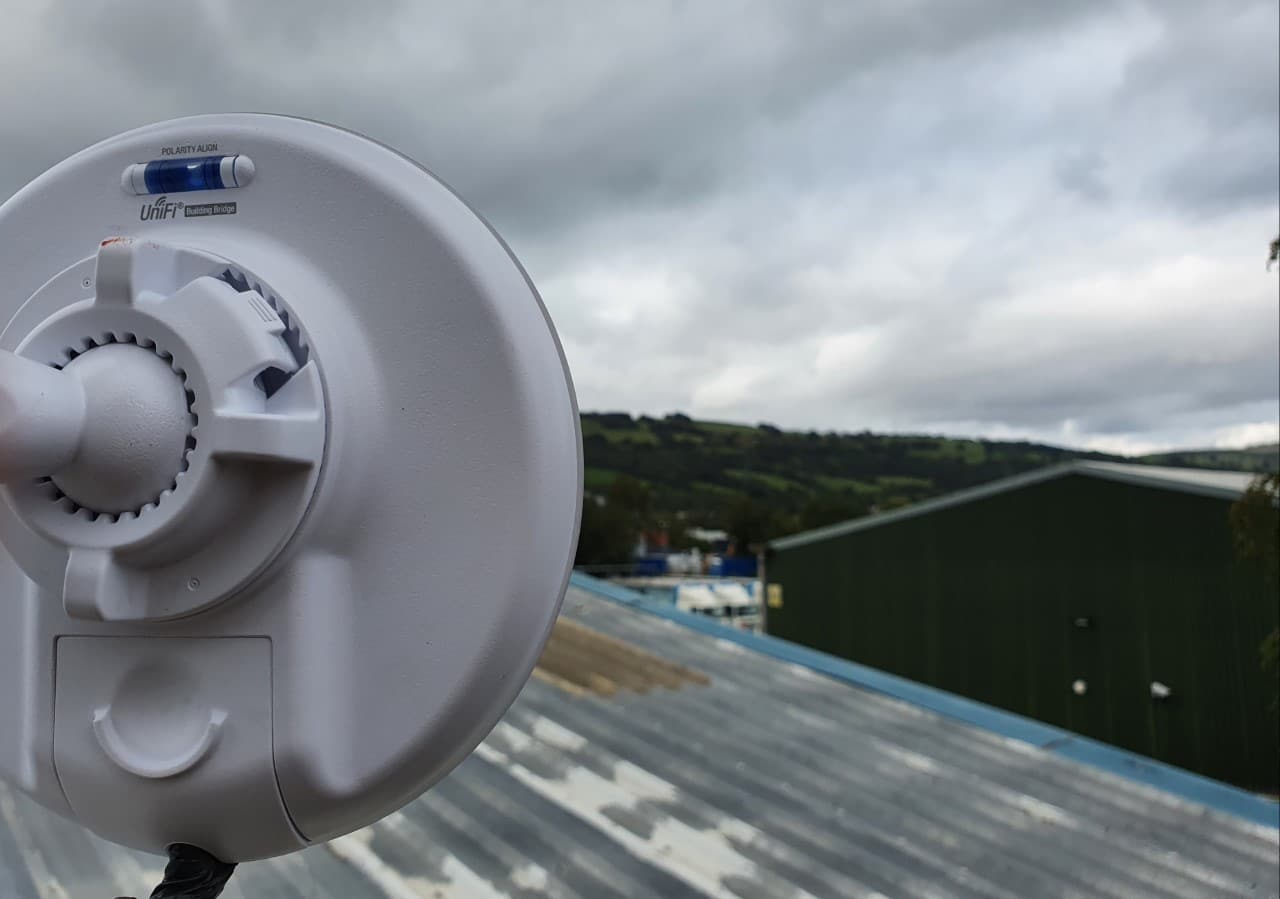 Project Overview
Location:
Bedwas, Caerphilly
Date:
11th September 2020
Bearmach is one of the largest on-line sellers of parts and accessories suitable for all Land Rover vehicles, worldwide. Delivering, on average, 330,000 parts per month to over 140 countries. For their operation to run smoothly it is vital they have a stable fast link between the main office building and their warehouse, located 300 meters away. Currently a 5GHz Motorola 50 MBit wireless link provided connectivity. While this provided sufficient connectivity for daytime activities, like booking stock in and out via their ERP system the link was slow to complete the daily overnight backups of over 30 Gigabytes or more. In addition the system kept detecting interference and swapping channels. During this time the link would be down for more than 60 seconds before re-establishing connectivity. During this time the staff would lose all the data in putted and have to start over. This was of course frustrating for the user and a massive and unnecessary headache for the IT manager. This added delays to shipment of parts to customers.
The Challenge and Solution
We reviewed all the issues with the current link and fully surveyed both locations and the link path. The link distance was calculated as 300 metres, with direct line of sight and a clear Fresnel Zone.
Multiple options were then presented to the client to choose from. From discussions we established the link would only be needed for around two years, as they were planning on building a new warehouse at the main office site. Bearmach were very keen to minimise costs due to the short ROI period.
The challenge with this project was to maximise link throughput at minimal cost, whilst providing a solution that could be re-utilised elsewhere, once the new warehouse was built. Additionally the link path was occasionally blocked by heavy machinery briefly passing through.
After reviewing several different solutions we settled on the Unifi UBB Building to Building bridge. This fitted the application perfectly, providing the key benefits:
High throughput
Relatively low cost
60GHz operating frequency eliminating current 5GHz interference
5GHz fall back radio, providing link stability if link line of sight is lost
Small form factor
Remote cloud management
Zero working hours were lost as the link was pre-configured off-site and a temporary network links were run during the installation.  This ensured we could install, align and fully test the link performance before committing to the change over.
With testing complete and the remote warehouse closed for the day, the new link was connected to both locations and handed over to the IT department for final checks.
Since completion the 5GHz fall back radio has been tested with no loss of connectivity when switching between radios. Giving link stability regardless of the external conditions.
New Link Specification
60 GHz PtP link using 802.11ad
Ideal for high-throughput connectivity
1.7+ Gbps bi-directional Plug and Play 60 GHz Bridge
5 GHz Radio Redundancy
UniFi Controller Management
Range of up to 500 metres
Building-to-Building Bridge is the ideal solution for short-range, high-throughput connectivity. Integration with the UniFi Controller makes bridging two networks seamless.
After completing the installation the customer has a >500 MBits/s connection to their remote factory with no drop outs, which increased their connectivity by 450 MBits/s. As confirmed with iPerf network throughput testing and reduction in backup time.
The installation process was fairly easy and straight forward utilising existing mounting points and was completed in one day.
If a wireless link like this is something that can benefit you or your business, please contact us to discuss how we can help.
Key Accomplishments
Achieving maximum link speed at minimal cost
Zero working hours lost to link downtime
500 MBits throughput duplex 1000% increase over existing link.
Providing 5Ghz fall back incase of issues in the 60 Ghz band
Remote cloud managment and support
Services Provided
What they said...
We're delighted with the performance and stability of the wireless link provided by Twisted Pair. We no longer have drop outs from interference and have increased productivity in the warehouse as a result. Backup now take a fraction of the previous time with no network bottlenecks.
Neil Fitzgerald - IT Manager