Wireless Connectivity across 3000+ M2 warehouse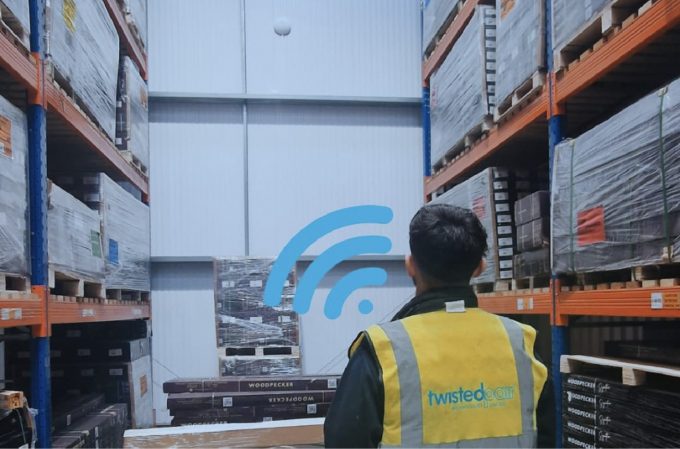 Project Overview
Client:
Wood Pecker Flooring
We deployed Ubiquiti Unifi Access points throughout the facility and installed CAT6UTP network outlets to support both the wireless access points (WAPs) and PCs. These high-range access points will provide connectivity for the product scanning guns used in the warehouse. It is important to mention that these inventory scanners are commonly used in retail and warehousing due to their multiple benefits, allowing businesses to monitor inventory levels, track sales and manage stock efficiently. Hence, the Ubiquiti Unifi Access points have been set up across the site to provide reliable wireless coverage. The scanning guns can connect to these access points wirelessly, allowing them to communicate with the network and transmit scanned data in real-time.
The Challenge and Solution
WoodPecker flooring were implementing a new cloud based stock management system and required full wireless connectivity across their 3000+ M2 warehouse.  With a short turn around time and limited current connectivity, the challenge was set. To complete the project we installed:
New multi-mode fibre optic link to a new warehouse data cabinet. This now provides a point of presence for further expansion.
19x Cat6 UTP links to packing areas and new WIFI points
7x Unifi WIFI 6 Long range access points
High level steel tray work to contain the cables
The project was completed in 7 days from purchase order. This gave plenty of time for testing and validation before the stock control system was implemented.
Key Accomplishments
Fast turnaround
Full wireless coverage
Solid infrastructure for future expansion
Services Provided
What they said...
We needed a new WIFI network up and running quickly and had used Twisted Pair for other services in the past. They delivered on time, budget and even helped us out with troubleshooting an existing faulty switch. I look forward to working with them in them on future projects.
Ashley Cushing - IT Manager