Fibre optic installation allows remote administration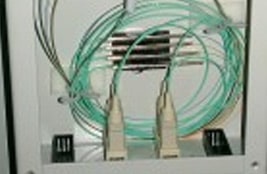 We've recently been commissioned to install data links to three major production lines at RPC Tedeco. They needed to have remote access to the Cognex quality control cameras situated on each of the three production lines. However the only cable route available ran next to the 415 volt power cables for the machines.
This meant fibre optics were the only option as it is completely immune from electrical interference.
We installed three, four core multi-mode armoured fibre optic cables directly from the server room, running along the high level containment. The cables then split off to each line and were terminated in the main electrical enclosure control panel.
The fibres were then fed into individual termination enclosures in each of the panels. These were then patched into media converters to convert the fibre to conventional copper Ethernet connections.
The final data link was then fed on Cat5e cable around the machine and into the computer controlling the Cognex camera array.
Using four core fibre to each machine gives the ability to add  bandwidth to the system in the future or provide redundancy should a cable be snapped or damaged.
The fibre was fed into a fibre optic patch panel and enclosed in the companies existing IT server and data rack.