Fluke Versiv Network Testing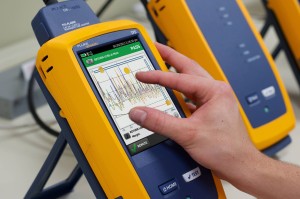 We are delighted to be working with the latest Fluke Versiv DSX-5000 network testing hardware. This is a brand new instrument developed from the ground up to test all types of network link. The new test equipment ensures we can test up to and beyond the current test standards now and for years to come.
The DSX Cable Analyser copper test solution enables testing and certification of twisted pair cabling for up to 10 Gigabit Ethernet deployments and will handle any cabling system whether it is a Cat 5e, 6, 6A or Class FA. Certifying a cable is one part of a process that starts with system design and ends with system acceptance.
Unfortunately, there are a lot of things that slow the process down – setting up the tester incorrectly, testing to the wrong limits, waiting for skilled technicians to analyse and troubleshoot failures, misinterpretation of results, and producing test reports that customers can not understand.
As part of the Versiv cabling certification product family, the DSX Cable Analyser provides accurate, error-free certification. In the installation business there are multiple teams, varying media types and multiple testing requirements. The DSX certifies copper cabling, complies with all standards including Level V accuracy, making jobs easier to manage, and getting to system acceptance faster. It's not just for the expert technicians and Project Managers. Individuals of various skill levels can improve the set-up, operation, test reporting, and simultaneously manage diverse projects.
Unique features:
Versiv enables users to accomplish more than ever with a cable tester, by accelerating every step of the testing process
ProjX management system eases tasks from initial set-up of a job to system acceptance. It eliminates redundant steps, and ensures that all tests are completed correctly the first time, and every time.
Taptive user interface puts advanced data analysis and easy set-up and operation at the fingertips of of technicians of all skill levels.
LinkWare management software provides unmatched analysis of test results and professional test reports
The DSX reduces the time required to fix cabling faults with Dedicated Diagnostics, a simple test that locates the problem
Performance:
Ten second Cat 6A test time contributes to the fastest way to gain certification
Graphically displays the source of failures including crosstalk and distance to shield faults for faster troubleshooting
Manage up to 12,000 test results with full graphics
Capacitive touchscreen allows quick tester setup with easily selectable cable types, standards and testing parameters
1 billion links reported on LinkWare management software
Standards:
Compliant with proposed ISO (IEC WG9 Standard IEC61935-1) Level V accuracy requirements to 1000 MHz
Supports the complete suite of Resistance Unbalance standards needed for Power over Ethernet (PoE) – IEC61935-1 & 11801-1-4, IEEE 802.3af, IEEE 802.3at, ANSI/TIA/EIA-568-C.2
Next generation balance drafts – IEEE 802.3, TIA TR42.7
About Fluke Networks
Fluke Networks is the world-leading provider of network test and monitoring solutions to speed the deployment and improve the performance of networks and applications. Leading enterprises and service providers trust Fluke Networks' products and expertise to help solve today's toughest issues and emerging challenges in WLAN security, mobility, unified communications and datacenters. Based in Everett, Washington, the company distributes products in more than 50 countries