Recent Network & Data Installations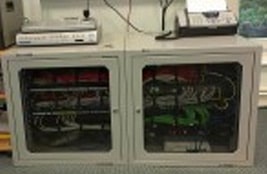 We've recently completed two network installations for several local companies and thought we'd share some site images from the completed installations. You can click on any of the thumbnail pictures to get a larger image.
I'm going to keep adding to this page so please check back.
---
TSW Training previously had all of their data infrastructure located in one large data cabinet which took up a large amount of office space. When they needed the extra space they used Twisted Pair to strip out all of the existing cabling, voice over IP phone system, network
gear and re-configure across two smaller cabinets. At the same time we added four new Cat5e network points.
This meant the room could be used as an office space without as much intrusion from the network equipment. The system was stripped our and re-built within a day with no unplanned down time. We then sent an engineer out the next day to ensure there were no teething issues with any of the PCs, phones or other connected systems.
---
A company re-locating offices required a new 18x Cat5e network and integrated door phone with access con
trol. This was interfaced to the Voice of IP Phone exchange, network switches & router supplied by the IT company. The system allowed the staff to enter using a pin number or dialling a code from any telephone.
The job also required significant containment to conceal the cabling. We installed over 50m of YT2, YT3 trunking.
The cabinet was located in unused space underneath the stairs, making the whole computer & network installation very discrete.