Fibre Optic – Connecting the 2010 Ryder Cup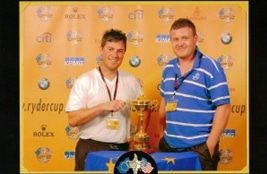 With much publicity and rain, the Ryder cup continues to be a success with thanks to fibre optic solutions provided by Twisted Pair.
Our team of Engineers were responsible for the full fibre optic link up of all IT systems at the Celtic Manor resort. This included over 30 full size out door screens, 10 Scoreboard informations systems.
In total over 1200 fibre splices were required and over 13Km of fibre optic cable.
We are then on call through the duration of the tournament to ensure the systems worked perfectly.
With such a high profile tournament and the media watching the failure of any system was not an option.