Security & Data for Cardiff Bay Super Gym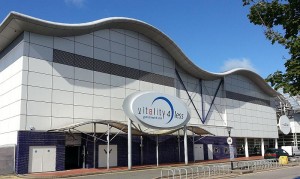 We have just completed a project for Cardiff's largest Gym!
Based in the Red Dragon Centre at the site of the old Evolution nightclub the Vitality 4 Less gym is part of the new trend of inexpensive no frills fitness centres.
The Gym features more than 250 equipment stations and free weights area along with sauna, steam room, dedicated class areas and soon to be installed climbing wall!
Another unique feature is a ladies only training area. For more information see www.vitality4lessgym.co.uk and tell them we sent you!
We installed the CCTV, Data network and intruder alarm as well as bringing in a local trusted partner to recommission the fire alarm. We worked with the existing infrastructure to minimise costs retaining large sections of the original alarm and CCTV systems, while bring them up to modern standards.
CCTV
We re-commissioned much of the existing camera network from the old nightclub adding two new cameras at key security and monitoring points. In addition we moved all the control equipment to a central comms room where it was installed into a locked cabinet. The CCTV was also networked to allow remote monitoring and administration.
Alarm
The existing evolution system was good but required complete re-engineering for the different requirements of the Gym. Therefore we installed new control panels and keypads but tested and retained as much of the existing wiring and remote modules as possible. This cut costs considerably compared to a new installation.
Networking
The gym required a new cat5e network to run various services including the Voice over IP phone system, a facial recognition system for door entry as well as the standard computers. We installed and tested the full network in one day to ensure the opening deadline was met.
We are currently looking at several system upgrades for the Gym including a new wireless network to provide free Wifi access for all gym members.
We wish Byron, Lisa and his team the very best in what is looking like a very exciting venture!
Comments are closed.