Twisted Pair renew our commitment to Health & Safety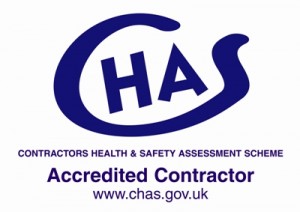 We are very pleased to have achieved CHAS compliance for the second year running. This demonstrates our commitment to ensuring all operations are carried out safely. The scheme also assists by reducing the burden of paperwork required at each site to ensure H & S compliance.
The scheme ensures the correct insurance, risk assessments and procedures are in place and embedded within the company culture. Given this it doesn't it make sense to use a CHAS accredited company?
CHAS is a government backed scheme to:
To improve health and safety standards across Great Britain.
To reduce duplicated safety applications for both suppliers and buyers.
As an accredited contractor this means our health and safety policy and risk assessments have been audited by an independent assessor and have been judged to be of a high standard suitable for government contracts. For more information see http://www.chas.gov.uk