New Lowest Standard of Installation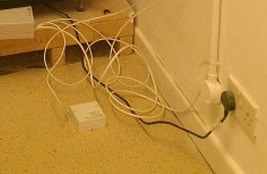 After installing a full Cat5e network for one of our clients we made the mistake of letting the ISP's contractor in unsupervised, to install the ADSL and ISDN mater sockets.
This is the worst example of their work we have encountered.
If you have seen worse let us know.
We would advise if you are having any work completed by Telecom contractors, you do the following:
1) Check the route you would like the cable to run, from the outside of the building to your preferred termination point.
2) If possible run all containment trunking, etc. Drill holes for the cable prior to the engineer turning up on site.
3) Run through the exact route showing them the containment and mark the wall with the locations of the master sockets.
4) Ensure you are present when asked to sign off the works. Only offer a cup of tea if you are happy!