Wifi at Gigabit Speeds, What you need to know about 802.11ac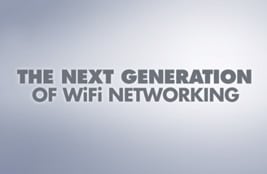 Wireless networks are set to make another leap forward in speed with the latest standard, nicknamed GigaWifi or the proper name 802.11ac. This new standard should at minimum triple the speed of current Wifi networks. See Netgears video below for an explanation of how it works.
The new standard gives a vast improvement, up to 433 MBit/s per radio from 150 MBit/s, over the 5 year old 802.11n. The new standard has a theoretical bandwidth with 8 radios of 6.93 Gbit/s.
This level of bandwidth completely eliminates the need for cabled connections for reliable HD & 4K HD video streaming, giving unprecedented network speeds over the air.
The new standard will be backward compatibly with existing systems although will require either of the connecting devices to operate on a compatible frequency (2.4 or 5Ghz).
By 2015 802.11ac will become the common place on all new equipment, although 11n is likely to remain with us for at least another 5 years. At the time of writing May 2012, compatible routers and wireless access points are scheduled for release in the next few months.
The
 

Tech Stuff

The new standard achieves this phenomenal level of performance by the following changes over the 802.11n standard.
Operating in 5Ghz frequency only (up from 2.4Ghz 802.11b/g & n is optional 5Ghz) which is less congested and prone to drop out
Wider frequency  channels up from 40Mhz to 80Mhz or 160Mhz
More data streams available from 4 to 8
Changes in modulation from 64 QAM to 256 QAM (Quadrature amplitude modulation)
Support for beamforming, this allows the devices to know each others relative location and adjust the signal phase for best performance.