CCTV Installation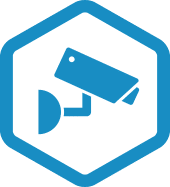 CCTV installation is crucial for businesses as one of the best ways to ensure commercial security.
The Benefits of CCTV Installation
Crime deterrent
Remote monitoring
Health & safety / insurance claims
Legal requirements
Review footage of incidents
How we can help you with CCTV installation
The installation of CCTV (closed-circuit television) systems is vital if you wish to ensure the safety of your commercial property and its goods. CCTV acts as a deterrent to criminals, and should a break-in or vandalism take place, you will be able to access and review footage of any incidents that occur.
The team at Twisted Pair Technologies provide the design and installation of various types of CCTV systems to suit businesses' exact needs and requirements. Whether you are working to a strict budget or need a high quality CCTV security system, we always have plenty of options to suit our clients' needs.
Many people have high definition TVs in their homes, and now expect the same level of picture quality from a CCTV system. As technology moves forward, systems such as IP megapixel HD cameras come down in cost, therefore when deciding on purchasing a CCTV camera system, the high definition options are considered against the old analogue systems for a fraction of the cost.
CCTV installation in Cardiff and the rest of South Wales
We feel that great job satisfaction is important and our clients often comment that the CCTV systems that we install for them have great picture quality and are reliable and easy to use. But don't take our word for it – see our testimonials to find out what our happy clients are saying. Here are two of our testimonials related to CCTV installation in particular:
"We have used Twisted Pair Technologies in the past to cover complex data cabling, fibre networking and high-end CCTV installation. The team is very knowledgeable and all work has been completed on time and to a high and neat standard."
– Dickon Payne, Welsh Telecom, Cardiff (from our FreeIndex page)

"We now use Twisted Pair Technologies exclusively for everything network-related at our factory. From CCTV, fibre links, full Cat6 recabling and most recently a full upgrade of our entire server room. No job too big or small. All the guys at Twisted Pair Technologies are methodical, logical and take pride in their work. Their standards are miles above other companies we have used in the past and yet their prices are still the most competitive. If you need anything network/CCTV-related, you can't go wrong with Twisted Pair Technologies."
– Matt Parsons, Cwmbran (from our FreeIndex page)
Please get in touch with our experienced sales team to find out more. We cover the whole of South Wales – including Cardiff, Caerphilly, Newport, Bridgend and Swansea – and beyond.
If you are based in Cardiff or the surrounding South Wales area and need CCTV installers to design and install a system to protect your business premises then please do not hesitate to contact Twisted Pair Technologies today on 08000 925 921!