Machine Vision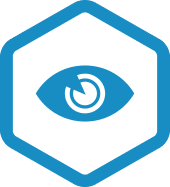 Would you like to inspect 100% of your production, automatically and with high accuracy, while reducing your on-going costs? Machine Vision is increasingly being adopted as one of the fastest and most reliable forms of inspection available to industry.
Machine Vision can offer serious benefits at the production line and, with low impact installation and a high level of reliability, considerable on-going cost savings can be achieved.
Machine Vision offers many competitive advantages:
Inspect 100% of your production not just a sample
Eliminate bad product at manufacture not at the customer
Record 100% of your inspection data directly to a database, operator display, PC or PLC
Remove paper from the shop floor
Remove the admin costs of generating production reports
Take control of your process, know the status of your operation in real time
How it works :
Part arrives at inspection station
Proximity or Photo sensor detects part & sends trigger to vision sensor
Part is illuminated
Image is acquired and digitized
Vision software processes image and analyses part as Good or Bad
Discrete output activates reject diverter if part is Bad
Display shows operator rejected parts and production statistics
Data sent to Quality Examiner for storage & trend analysis
1 – Inspect
Typical applications include:
Precision Measurement
3D Machine Vision
Assembly flaws – checking for part presence or absence
Checking for surface imperfections
Colour monitoring and uniformity
Counting and classification
Optical character recognition and verification (OCR/OCV)
1D and 2D barcode reading and grading
Part traceability and tracking
2 – Record
Eliminate manual data recording
Vision systems can acquire data about many aspects of the product being inspected. Measurements, counts, colour checks, etc can be made. Free your shop floor from paperwork using the automatic data collection systems.
Collected data can be sent to a database. If you do not currently have a database, we can build one to your requirements.
Data could be sent to a single PC, either to an Excel or Access database for simple storage and data reporting needs, where you do not require significant amounts of data to be stored.
Alternatively, you can push your data directly to almost any PLC, robot controller or other device through industry standard connections.
3 – Report
Many flexible reporting options are available
For Operators – Human Machine Interfaces (HMI), give operators and engineer's information directly at the line.
For Supervisors – PC based reporting, providing instant overviews, and accounting for defects
For Management – Providing flexible standard reports: available quickly, and easily adapted to suit any purpose. Cut the admin costs of generating production & quality reports
4 – Analyse
Powerful data analysis is possible. From simple pareto charts to complex multidimensional trend charting
Get accurate process information in real time
Make decisions on real data
Compare efficiencies of different processes
Find losses quickly, improve reaction time.